Description
The IDEAL 2503 Strip Cut Shredder is 'white paper shredder' which shreds up to 20 sheets per pass at 80gsm, 1000 sheets per day into strip cut pieces. It also shreds staples, paperclips, CDs/DVDs & credit cards. It comes with a 75 litre bin which holds up to 560 shredded sheets of paper.

Specs at a Glance:
23 sheets per pass / 1000 sheets per day
Shreds Paper, Staples, Paperclips, CDs/DVDs & Credit Cards
4mm Strip Cut / DIN Security Level P-2 for non-sensitive internal documents. 
260mm Entry Throat (A4)
Bin Capacity: 560 sheets - 75 litres

Dimensions (WxDxH): 500x377x870mm

2 Years Warranty on Shredder & Lifetime Warranty on Cutting Shafts.
Made in Balingen, Germany!
Key Features:
Protect your confidential and information from identity fraud
Automatic reverse and power cut-off to avoids paper jams and automatic stop when the bin is full
High quality cutting shafts made from special hardened steel sourced from Germany
Quality wooden cabinet, mobile on castors, with convenient 75 litre bin
Electronically controlled, transparent safety flap in the feed opening for safety of yor employee's

Quiet, powerful and energy-efficient 580 watt single phase motor



Quality in every detail
All component parts of our document shredders, from the uniquely stylish wooden cabinets with superior fittings, to the PC boards made in our factory, are striking for their superlative quality and the careful use of material resources. Now with Lifetime Guarantee
The cutting shafts
Manufacturing high-quality shredders with long life cycles has always been a declared aim of the Krug & Priester company. Our top-quality cutting shafts made of special hardened steel, which are the components subject to the greatest workloads, inspire us with so much confidence, that we introduced the Lifetime Guarantee against breakage (Note: Micro cut and super micro cut models are excluded). This Lifetime Guarantee is based on the experience we have gained over decades, as well as on the first-class material and the sophisticated engineering of our products.
Patented safety flap
IDEAL business shredders are particularly simple and safe to use. May the patented SPS (Safety Protection System) in this connection certainly describe as a milestone. It comprises an electronically controlled safety flap, which provides a mechanical and electronic interference protection to the feed opening. Something other than paper therefore has no chance of getting into the cutter. And also with the electronic door protection via a magnetic switch, the automatic reverse and power cut-off, the automatic stop if the shred bag is full and the double motor protection against overheating, you are on the safe side.
Easy_Switch
That such sophisticated technology is really easy to use is shown by the intelligent operating element EASY_SWITCH which was developed especially for IDEAL . With this clearly laid out multifunction switch you have everything under perfect control. The entire switch is back-lit and indicates the current operational status by means of easily identifiable colour codes. In addition, easily intelligible illuminated symbols provide clear operating instructions, so you always know exactly what you need to do.
Zero Energy Consumption
With its products "Made in Balingen", IDEAL is committed to the optimum environmental balance in every respect. The new energy saving function "Zero Energy Consumption" is particularly environment-friendly, and comes as standard with each model of Business Shredder from the IDEAL 2245 up to the IDEAL 4005. After 30 minutes in stand-by mode, this function is activated automatically, and ensures complete shutdown of the shredder. Zero energy is consumed.
Shred bin
The environmentally friendly shred bin can be used with or without disposable plastic bag, and provides a unique and sustainable solution in the market.
The IDEAL 2503 series are beautifully designed white shredders for continuous use in the Medium to Large Offices. They are packed with features including an illuminated  'EASY SWITCH' with many advanced features - automaticstart/stop at entry, auto-reverse in case of paper jams, auto-stop when the collection waste bin needs emptying or when the door is opened.
Lifetime Guarantee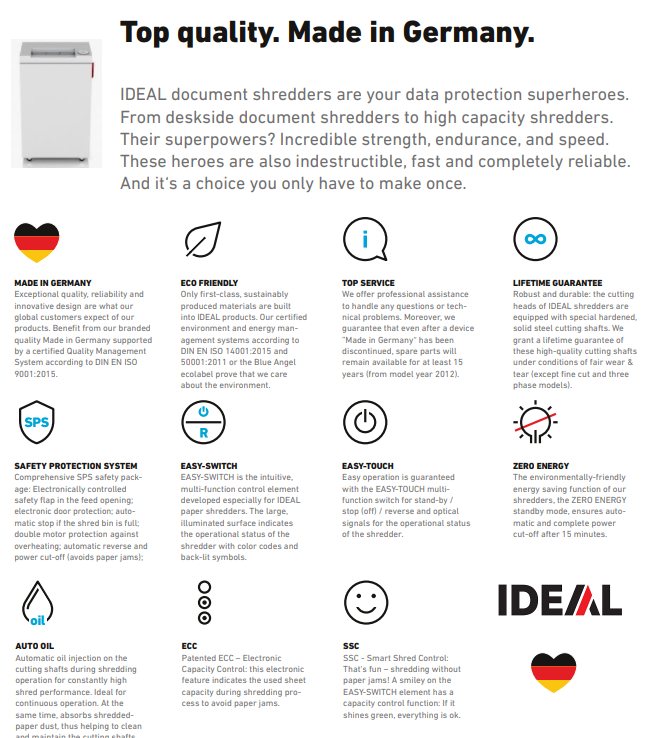 Payment & Security
Payment methods
Your payment information is processed securely. We do not store credit card details nor have access to your credit card information.
---
Security